Check out what we have been up to during the past 8 weeks…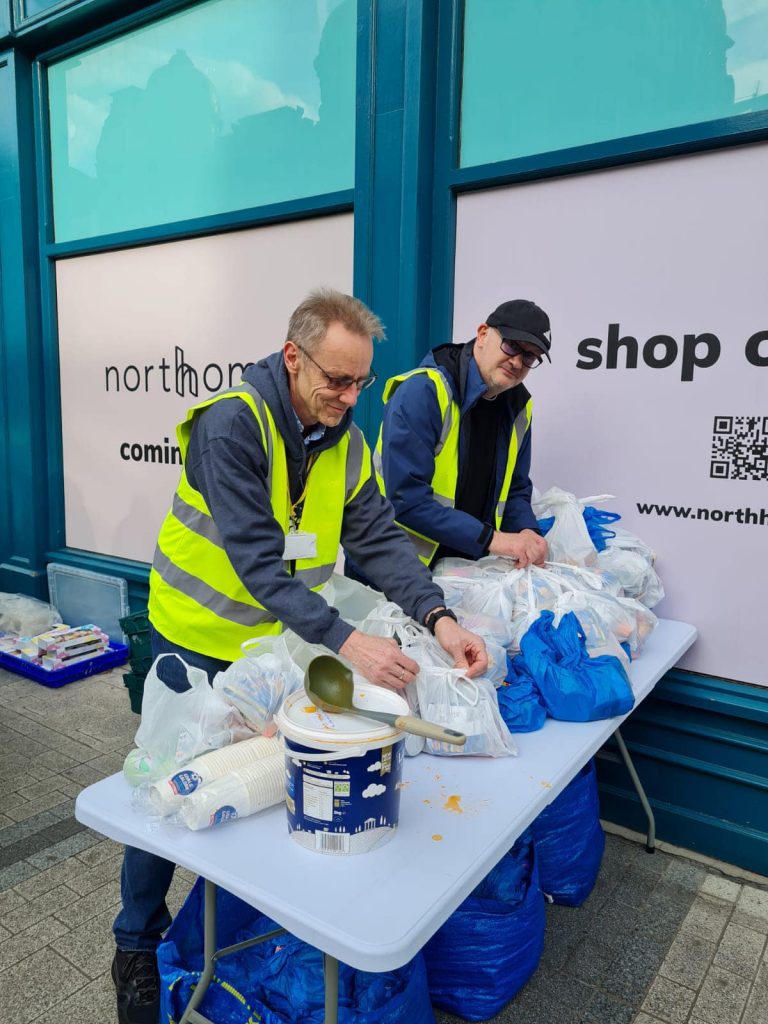 Sunday 22nd May 2022
A really pleasant night tonight spent with the people we support. Everyone was in good spirits – they all constantly thanked us for taking the time out to support them and they really enjoyed the interaction.
One of our homeless friends mentioned today that we were the only people to speak to him today and he was just grateful we had given him our time. Tonight we had a our youngest volunteer join us. Young Laila gave us so much support and at such young age collected non-perishable food donations and much needed men's clothes. It was our privilege for her and her lovely family to come out and join us so she could see how much it a difference her important hard work makes for us.
An individual that we had supported on the streets for some time – we hadn't seen him for months so we made contact with him just to do a welfare check to let him know we had missed him. He surprised us tonight by turning up to volunteer. It was our privilege to see him tonight and he constantly hugged us and thanked us for caring. He is really doing well in life and it so good to see how far he has come.
Our other work this week: It has been an absolutely exhausting week with the number of food parcel referrals we have had. We are doing our best to support each and every referral we are getting but on occasion we are having to refer people to their local food banks. Almost everyday we have been taking a phone call from individuals that are struggling. This week Homeless Hampers have donated 3 TVs, a microwave, kitchenware and clothes to recently housed individuals.
Our support into the food banks has continued as well as our support into St Anne's Breakfast club. We also paid the cost of travel for 2 individuals to get to their new jobs. Today we've learnt one of our long term homeless friends will be moving into his new home 12:30 tomorrow. He has contacted us as his new home is completely bare. He wanted to see if we were able to support him and turn his flat into his new home. We don't ask for furniture as we are offered furniture all the time. What we do ask people to consider donating to us is electrical items such as washing machines, fridge freezers and TVs. Fortunately for this individual we have these items in storage which we will be delivering to him tomorrow. We will assess what other items he requires – he has already asked us to provide some decorating equipment along with paint which we will do.
Those that made this week possible:
Thank you to Marlene – once again for your delicious home baking which is always enjoyed by everyone.
Thank you to Hughie for taking the time to deliver the baking to us.
Thank you to Karen – for cooking a sausage casserole, veg pasta bake and red pepper soup which went down a treat.
We'd like to thank Rob from Waitrose for ensuring that Karen receives the donations of surplus food so she can continue to cook her delicious home cooked meals.
Thank you to Steve – for cooking and donating an amazing bean stew curry. Steve also donated us non perishable foods.
Thank you the Punjab Heaven and Singh's restaurant – for donating curry and rice which the guys thoroughly enjoyed.
These donations helped to support the outreach as well as the homeless hostels and B&B's.
Thank you to our volunteers and team in Menston, Burley and surrounding areas for their continued hard work in collecting donations but not only that – they make up 100 snack packs each week. They also organised to deliver these donations and snack packs to us ahead of our Sunday night outreach.
Thank you to M&S, Waitrose, Sainsburys and Greggs for their continued support. Thank you to everyone that donated items, food or monetary donations- we would love to mention you individually but there are far too many people to name.
We'd like to say a special thank you to our 3 trustees that stood down – Janet, Liz and Mal. We were humbled to have you as part of the Homeless Hampers journey and we know that you will continue to support Homeless Hampers by giving us your valuable time as and when you can.
Equally, we'd like to welcome our 3 new trustees – Christine, Ian and Harriet. We look forwards to working with you on the big upcoming projects.
Finally, we'd like to thank our amazing volunteers – you make such a positive impact with the team and the people at the core of our hearts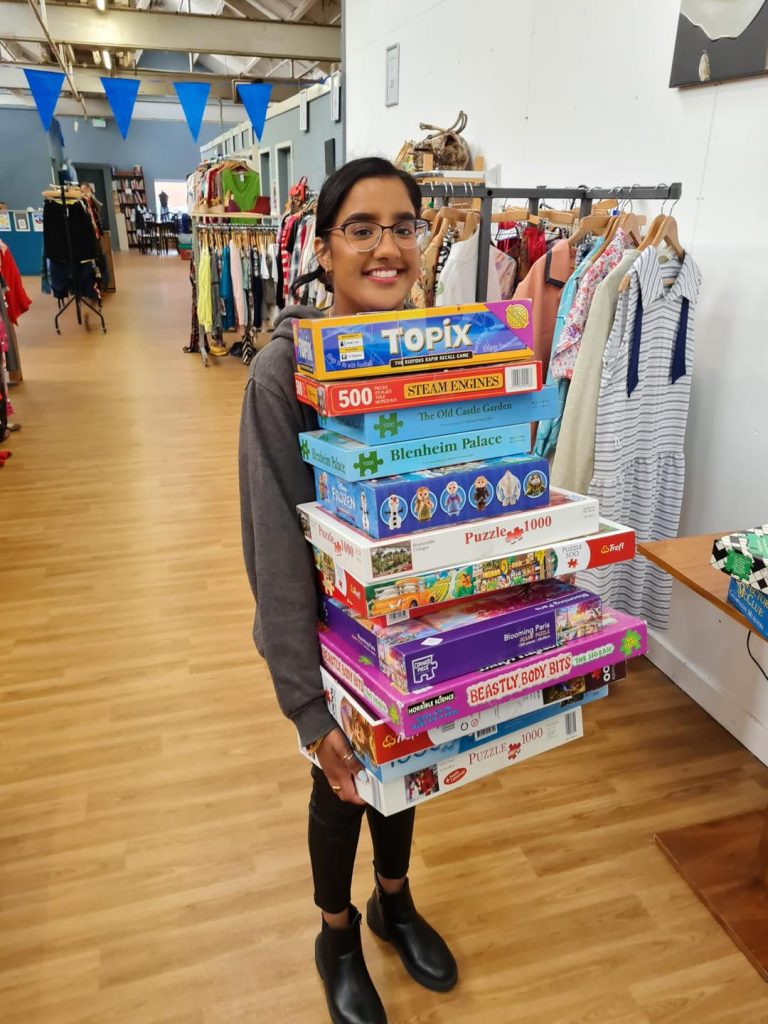 Sunday 15th May 2022
Not something we normally do on a Sunday, but our day started with requests for food parcels and our night ended with a food parcel drop after a very busy outreach.
We fed 133 people tonight, whether they visited us or we came across them as we walked around the city centre.
We came across an individual that didn't want to accept an emergency bed – due to his mental health he struggles being around people. He has been homeless for 4 weeks and is really struggling with being street homeless. We've taken his details and we will make some enquiries as to what we can do to support him.
Although it was a wet night people just waited patiently. The team have also been out delivering meals and food donations to the Homeless Hostels in Leeds and Bradford. As we previously mentioned we were supporting some Ukraine families that have recently been accommodated in the UK, we have managed to provide them with everything that was requested of us. It's pleasing to see the young children settled and safe.
As always, it's our pleasure to support the homeless breakfast club at St Anne's as well as the food banks. We are taking requests every day for emergency food parcels. We are even being contacted by other charities to help support their service users.
Homeless Hampers is currently supporting 5 others charities on a weekly basis and as of Friday we will be taking another one on – each of them are linked to the homeless. This week we have met with the local authorities as we have want to support them with the refugee project. Sadly we discovered some of these families that have been made homeless from their homes have been waiting for a considerable length of time for suitable accommodation to become available for them. We learnt that so many of these families were in professional jobs with lovely homes of which they were driven out of.
We learnt of 17/18 year olds that wanted to pursue careers as doctors and surgeons were driven away from their ambitions. We never comment or involve ourselves in politics, we are completely non judgemental and our focus is to support humanity.
We have already started looking at what support we can offer through tutoring, sports activities, arts & crafts and practical support. The most humbling thing we learnt was this community are too proud to ask for help and will do their best to manage, but we will do our best to support as sympathetic as we can. The young innocent children we had the privilege to meet know no different and just touched our hearts. Already we visited St Vincent's to donate them some food pies and they donated us jigsaw puzzles for the children, so a humbled thank you for supporting us.
We require the following should you wish to support us:
We normally put food provisions in place and for the first time we have been asked to put practical support in place. If you can help please contact us.
The Homeless Hampers Team make us proud as so many of them want to be involved to make a difference.
This week we want to thank: Karen for cooking sausage stew, chilli con carne and fruit crumbles. Our team in Menston, Burley and Otley for arranging collections and making up the snack packs. We'd also like to thank those that donated toward the snack packs, cooked and donated clothes and toiletries. As well as those who donated electrical goods.
Also thanks to all who donated furniture and monetary donations. Punjab Heaven for the chickpea curry and rice which the guys really enjoyed.
Singh's Restaurant for cooking rice and lentils which helped to support 3 hostels this week.
Greggs in Leeds and Bradford – they are now supporting us 7 days a week.
Thank you to Paul and his colleagues at The Woods for their continued support.
M&S whose food donations help us with out food parcels and donations into homeless hostels.
Waitrose as their donations of surplus food helps Karen to cook up her meals for the Sunday night support.
As always a huge heartfelt thank you to our team and volunteers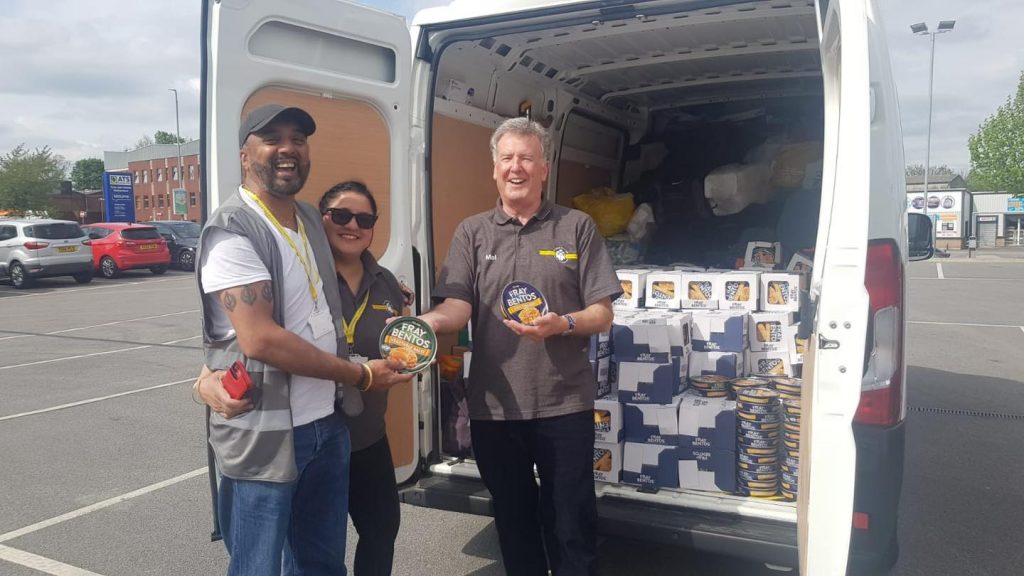 Sunday 8th May 2022
We helped 156 people last night either in our food queue or the team across as they walked around the city centre. Incredibly worrying time for so many. These people aren't all homeless, there are people that are accessing hot meals every other day and living in food poverty. We not only fed people, we provided clothes, toiletries and other essentials.
This must have been one of our busiest nights.
We do our best to provide extra support where we can but sadly, we had a few people wanting to take meals away for other individuals and this is where it becomes difficult, as we can see the length of our queue and often worry about running out of food. We are just so fortunate to have a good caring and compassionate team that always go above and beyond.
We are equally seeing a demand for our weekly work.
We are not a food bank but we do work along side all the commissioned services and charities to take referrals for people that fall under our remit. However, we do support the food banks with donations so they can continue their good work.
This week, in partnership with St Anne's we donated 2000 Fray Bentos pies which we collected and provided 200 St Anne's along with topping their breakfast club. The rest has been donated to various food banks and other worthy causes to support them and sadly, each food bank we visited has seen a surge in demand for support but a drop in donations. We will do what we can to support them.
This week we have delivered a sofa, a carpet, a chest of drawers and a bed. We have also donated toys to the Ukrainian families we have supported.
Thank you to: Karen and Steve for providing nourishing hot meals enjoyed by all. Thank you to the Congregation of the Saints of Thallan village in India for donating 70 hot meals, fruit, milk, bottled water and short bread biscuits. Thank you to Penny and Dawn for their continued support. Thank you to all the supermarket chains that support us every week to make each week possible.
A special thank you to the Homeless Hampers volunteers. Your support is making everything possible and, for us take on new challenges with the difficult time so many are facing.
As you may have seen, we were awarded the Yorkshire Choice award for volunteers of 2022. As humbled as we are, it doesn't change us, we will continue to support those that need us and remain at the core of our hearts.
Thank you for nominating, voting and believing in Homeless Hampers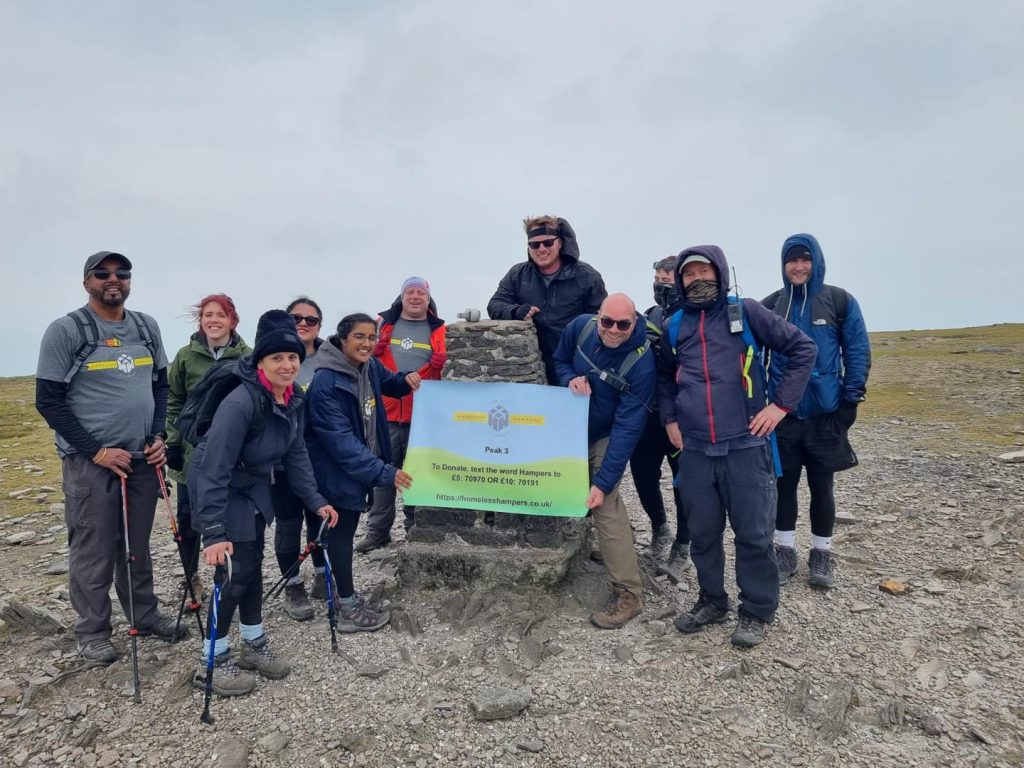 Sunday 1st May 2022
What an eventful week we've had…!
Lots of our usual activities took place – we continued to support the Homeless Hostels in Leeds and Bradford, and have just taken a new one on in Bradford.
In total we know we support 7 Hostels across both cities.
We provided meals into 2 B&Bs where our homeless friends are accommodated.
This week we were asked to support 2 individuals with hygiene packs, towels and food parcels as both have just come out of hospital.
We continue to support Newlands food bank and in return at times they support us back.
What a difference we have seen to homes we have donated white goods and furniture to.
We are just inundated with requests for support, but what we have to say is we work on a referral basis from the services and other charities we work closely with. Our main clientele is people that have been homeless and now housed.
St Anne's breakfast club and pantry nicely topped up so our homeless friends can access a hot breakfast.
Again we are receiving a lot requests for food parcels, we just don't know where the demand will stop but everyone we visit is grateful of the support. We ended the week with our street support for our homeless and vulnerable communities. A really pleasant night as our volunteers took over and managed the food and clothing support which gave us the time to talk to people that visited us. We could see what their needs are and where we can support, especially for those moving into new homes.
We do know there has been an increase in the number of people made homeless and more and more new faces are appearing. We did manage to refer one individual in for a emergency bed. Again, it was completely our pleasure to support the Ukrainian families that have been accommodated and our support will continue. It's the least we can do.
Who made this week possible: All of you did with your donations of clothes, food, furniture, white goods and monetary donations. We are always humbled by the encouragement and kind words you offer.
Karen and Steve for cooking the hot meals. We provided a lovely chicken stew and a vegetable stew. As well as Karen delicious vegetable soup while people stood patiently in the long queue.
Penny and Dawn you both support us with food/cake donations every week and it really helps us.
Thanks again Marlene for the variety of baking and your selection of amazing cakes – just loved by the people we support.
Thank you to Hughie for arranging to deliver to us. Also thank you Hughie for donating us a electric cooker which has been delivered to a newly housed individual.
Thanks to our team in Menston for making up the snack packs and this week the team made up a 100 to meet the increased demand.
Thank you to Helen from The Swan in Yeadon and The Knitting Natterers for continuing to knit woolly hats and scarves which will be going into our Christmas shoe boxes for the end of the year.
Please support with donations of;
Thanks to Surj for providing another 40 snack packs again to help us meet the demand on a Sunday night.
Thank you to our selfless volunteers you are all just so amazing and we are just so fortunate you have chosen to volunteer with Homeless Hampers.
Let's end with a special thank you to our team that took part in the Yorkshire 3 Peaks challenge, you were all amazing and a great team spirit. In particular a heartfelt thank you to Ian and Mike for keeping us going and getting us through some of our most challenging moments and more importantly keeping us safe.
Thank you to everyone that donated our current total is £3,825. The go fund me page will remain open for our other challenges or for should you wish to donate; https://gofund.me/74017963
Hampers a team that just works to make a visible difference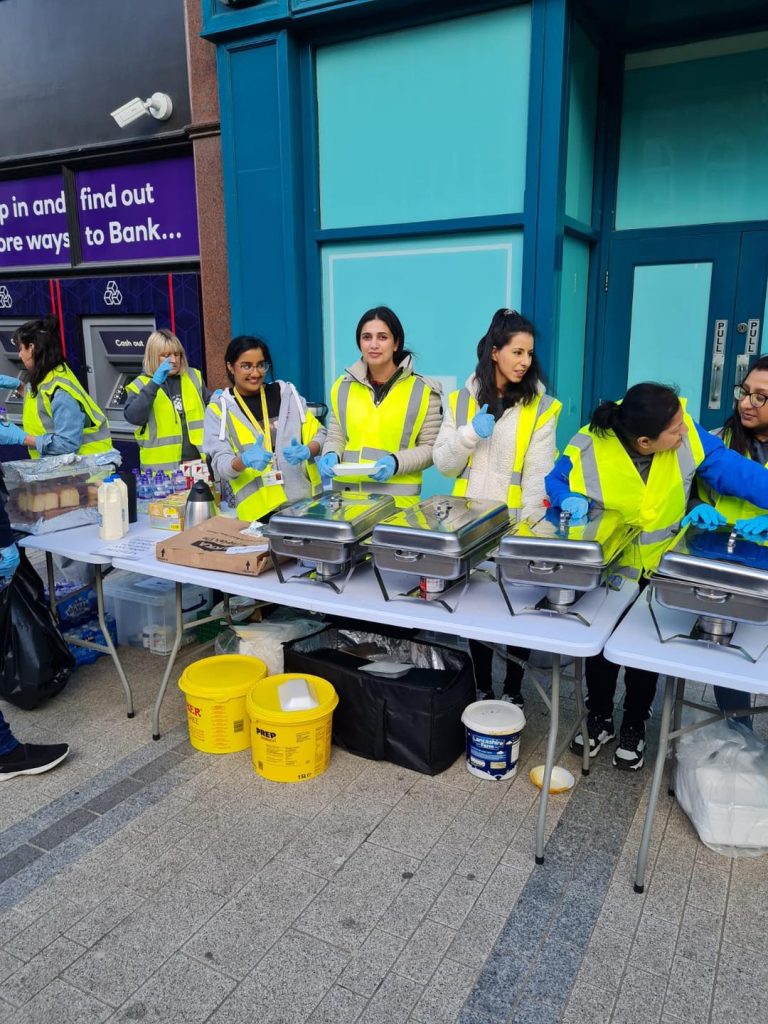 Sunday 24th April 2022
Firstly we would like would like to thank the 29 volunteers that joined us tonight, we certainly needed your help. In fact the numbers they saw overwhelmed them. Some of the people who come across to see us now arrive at the start, look at the length of our queues and walk away to return later once things die down. We also went through a lot clothes tonight. We are just seeing so many new faces it worries us.
Our team that are on foot handed out hot drinks, hot dinners and clothes. We also delivered meals into the homeless hostels on our way home.
We offered to refer an individual in for a bed but he had already been down to the service accommodated beds and had waited all day for a bed to be offered to him.
We are just inundated with people requesting emergency food parcels. We were contacted by the commissioned services as one of their clients was promised a food parcel to get him over Easter. Unfortunately no one got to visit him as promised, so he remained hungry for 3 days until we visited after the bank holiday.
We just feel that as a small non-profit charity we are going to face some difficult and pressured times.
We are just flat out in the evenings delivering furniture and white goods, but we can't complain as it gives us real pleasure to see new homes come together. Two individuals made us smile this week, the first we donated a king bed to, he smiled from ear to ear as never slept in a double bed !! He left a children home ten years ago and has been homeless for 10 years; some years he was street homeless and some years slept on friends floors. He finally has a place to call home and he looks forward to sleeping in his new bed.
The second individual we have supported for a few weeks. We walked into his flat and all he had was a single seater and a mattress. He used a shopping trolley to place all his clothes in – we have helped completely revamp his flat. He has so much pride in his new flat and keeps it immaculate. He constantly thanks us as he is proud to have him family back in his life.
We met a wonderful young man this week. He himself at the age of 16 was placed in a one bedroom flat that was empty!! Through his hard work he bought everything he has and decided to donate us items he no longer required to give someone else the start he didn't have.
All our usual activities continued – our teams continue to supporting the homeless hostels and the food banks. We continue to deliver our emergency food parcels to struggling families and individuals. We also continue to support the breakfast club.
Who made this week possible: Our Team in Menston and surrounding areas for making up the snack packs and collecting donations. They will up their support to 100 snack bags to meet some of the demand we face.
Thank you to everyone that donates to keep us going.
Thank you to Lyceum, Singh's Restaurant and Punjab Heaven for providing the hot meals for tonight – thoroughly enjoyed by all.
Thank you to Greggs, Morrisons, Waitrose, M&S and Sainsburys for their continued support.
Thank you to everybody for donating furniture, white goods, clothes and monetary donations.
Thank you to Penny for donating us cakes and bread again this week, really helps, thank you to Dawn for delivering.
Once again we a humbled by the support our volunteers gave us – we wouldn't have been able to do it without you all.
As we've announced that we will be taking part in the 3 peaks challenge in aid of our homeless community. We are hoping to complete the challenge in under 12 hours – we will do our best to keep you updated as we complete each peak. Again we would like to thank everyone who will be joining us in the 3 peaks challenge – for most of us it will be our first attempt at it. A little nervous but we will give it our very best shot – if you would like to support us please see the link below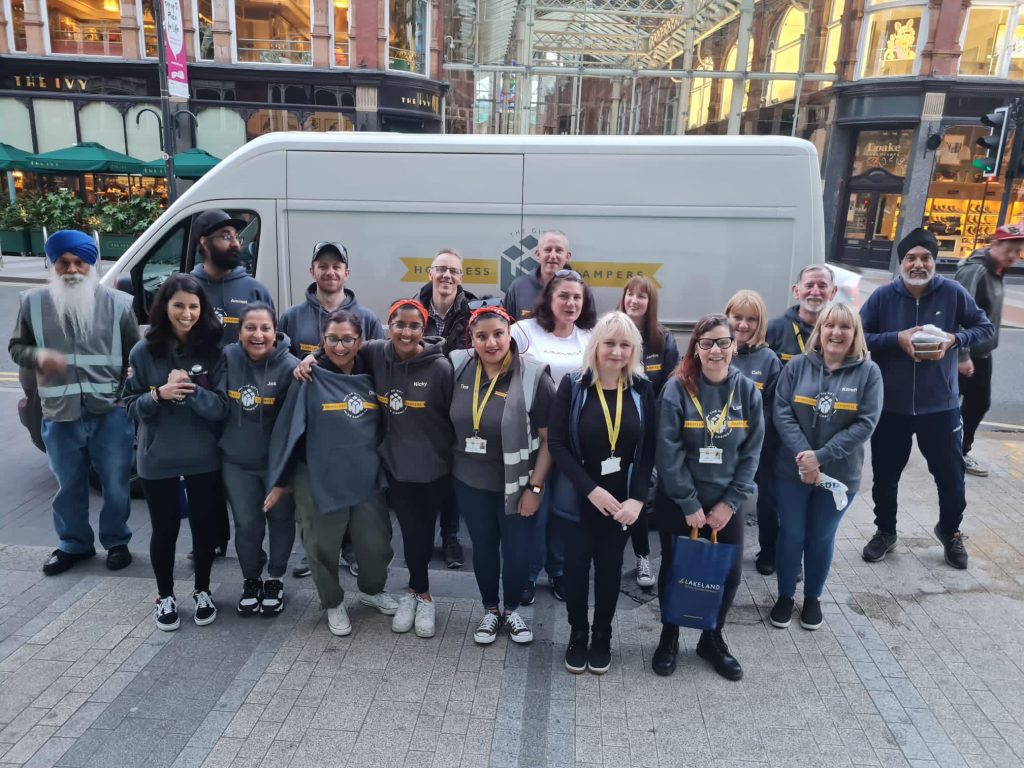 Sunday 17th April 2022
Hectic night, as it turns out to be each week!
We provided meals to the people that came out to see us and we provided meals to people in two homeless hostels. So all in all a busy day for the Homeless Hampers Team. There were too many numbers to keep count of tonight.
Sometimes we can take some time to talk to people but unfortunately tonight wasn't one of those nights.
Just a heartfelt thank to everyone that donated cooked meals to help us make tonight possible. Karen, Steve, Lyceum and Punjabi Heaven – thank you all! Not only did these guys support us tonight but they supported us with enough to allow the guys to take away additional meals as well. The support also allowed us to take food into the homeless hostels tonight.
Normally we take Easter weekend and Christmas weekend off but fortunately we took the decision to not to have time off. Our van has made life easier but equally made things that bit busier. It's just not in our nature to say no to those that need us. We have had the van for 6 weeks and ironically, we have completely refurbished 6 homes for the individuals we support. The individuals we have supported, we've seen a significant improvement in the pride they are taking in their new homes. This is what makes our work worth every bit of our time. In addition to the previous furniture we have provided, this week we have been able to deliver, sofas, beds, TVs and a washing machine.
Our support into the homeless breakfast club has continued, as well as our support into the food banks. Although we've seen a drop in donations, we have seen an significant increase for the support that people are requesting from us.
This week we were asked to support a young man just struggling with everything we turned up with a food parcel, TV, kitchenware and paints and paint brushes so he could decorate his new home, he becomes really overwhelmed and stated we had done more for him in moments then anyone had done for him in his 26 years of life!! He promised us he is going to make the best of his new beginning.
This week we have been able to distribute 253 Easter eggs to our homeless and vulnerable communities. Thank you to everyone that donated Easter eggs to Homeless Hampers especially young master Sharma who saved up his pocket money to buy 20 Easter eggs for our homeless friends. We love selflessness at a young age.
Sadly we have been asked to vacate the additional storage space we had, which was of great use to us due to the freezer space we were given. If anyone knows or is willing to give us a storage space with a freezer please kindly get in touch with us as we appreciate any support that is given.
We'd like to thank everyone who has continued to donate to us non perishable foods, clothes and monetary donations.
A special thank you to Yorkshire Property Solutions for taking on Homeless Hampers as there nominated charity they have pledged to support us with any work we require for our newly housed friends.
Thank you to Paul, Richard and their Team and the The Woods in Chapel Allerton for their continued support, we are privileged.
Thank to exerts SUPPLIES for their continued support this week they donated us clothes, tins and sachets of coffee and tea.
We'd like to thank Marlene for continuing to bake for us.
Thank you to Hughie for delivering the cakes to us.
Thank you to Newlands food bank for working in partnership with us and your generous donations.
Thank you to our incredible and hard working team and volunteers for their selfless work.
In 2 weeks time we will be taking on the 3 peaks challenge in aid of the homeless hampers charity to help us continue the work we are doing – https://gofund.me/74017963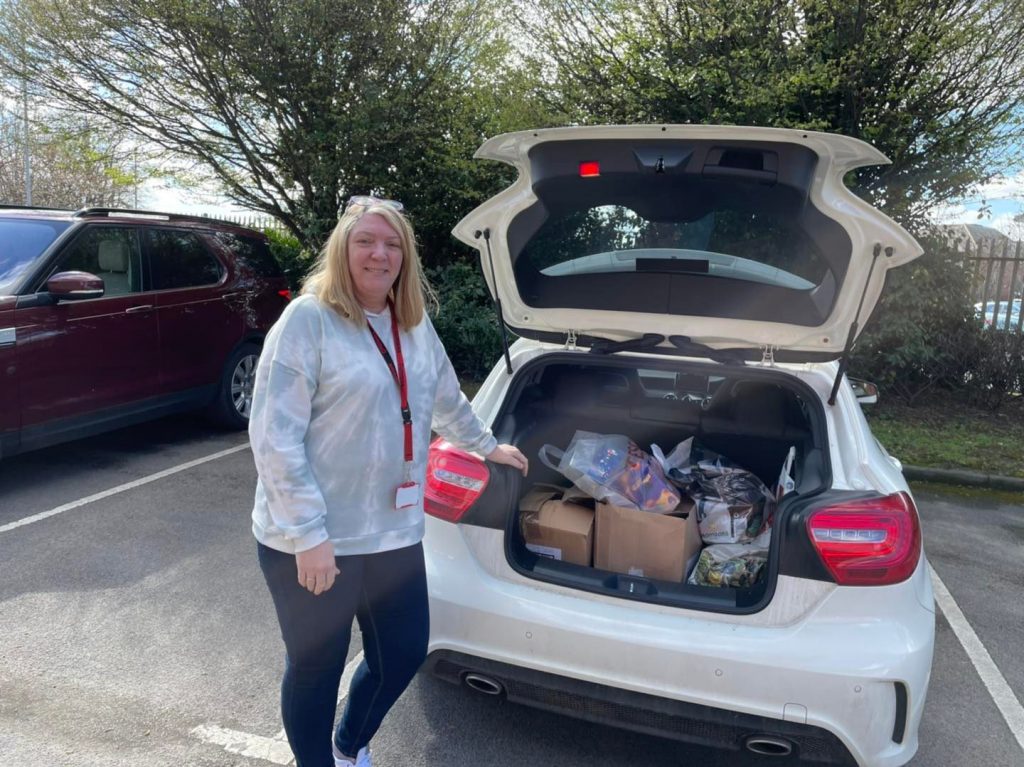 Sunday 10th April 2022
We think we will have to get used to seeing the numbers we are – 125 was the head count for tonight.
The queues are just endless, the team that waked around with the trolley came across 25 individuals and again we are seeing people sleeping doorways with sleeping bags or duvets.
At the ended of the night as we loaded the van and most of our volunteers left, another queue built up and we ended up severing food from the back of the van until everyone was fed.
As the team walked around they came across an individual that became homeless after he lost his business. He sits and begs everyday so he can pay for a night in a bed and breakfast. Some days he's fortunate enough to get enough money to be able to pay for it but when he isn't he will sleep rough. Tonight after hearing his sad story that reduced him and us to tears we thought we would give him some respite tonight so he doesn't have to beg for a warm bed so we paid for his accommodation.
As we mentioned earlier the team saw a lot of people with their heads under their sleeping bags and duvets. They slept through all the noise that was going on around them. Many of the homeless community say that sometimes they do tend to stay asleep during the day so they can stay up during the night as it makes them feel safer.
A lot of meals handed out tonight, not only to the people that visited us but around 4 of the homeless shelters in Leeds. Sundays are an extremely busy night for the whole of the Homeless Hampers team. We've seen an increased demand for clothing amongst our homeless community.
We are really busy at the moment – not only with our Sunday night support, but also we are seeing another increased demand for food parcels. This week we delivered 26 food parcels. This week we were asked to support an individual that's homeless but is sleeping on the floor of a relatives flat. He only has access to a kettle as a way of preparing a meal. We ended up providing noodles, fresh fruit and pastries to get him by.
This week we donated 2 TVs, a microwave and a fridge freezer, wardrobe and house hold furnishings. We'd like to take the opportunity at this point to thank everybody who has been donating their electrical appliances to us. We've managed to get the St Anne's breakfast club well equipped with plenty of food.
This week they asked us to provide washing powder so the homeless community can go in and wash their clothes. The team have worked incredibly hard throughout Leeds and Bradford, making sure that all the hostels have received a substantial delivery of food donations.
Who made this week possible: We'd like to thank Paul at the Woods Chapel Allerton, with his continued support of pizzas. We'd like to thank the following people for cooking hot meals this evening: Karen, Steve, Singh's Restaurant, Punjabi Heaven, Christie and the Chaggar Family.
We'd like to thank the community and our team in Menston and surrounding areas with their continued support for the snack packs, donations of clothes, Easter Eggs and non perishable goods. Thank you to Penny for the cakes and thank you to Dawn for delivering.
Thanks to Chapeltown Youth Development Centre for donating us frozen meat, which will help us provide meals for those we support. Thank you to Jayne and her colleagues at Cummins for their generous donations of Easter eggs and non perishable food, they have pledged to continue to their support.
Thank you to Pat at Seven Arts in chapel Allerton for her donation of snacks and drinks. A special thank you to John and his colleagues for donating Homeless Hampers much needed foldable tables that we used tonight. Thank you to Greggs and all the supermarkets who work with us for their continued support. We are forever grateful for our selfless volunteers. As you can see we've been training for the Homeless Hampers 3 peaks Challenge – which takes place on the 30th April. We are hoping to complete this under 12 hours. If you're wanting to support us, please see the link below: https://gofund.me/74017963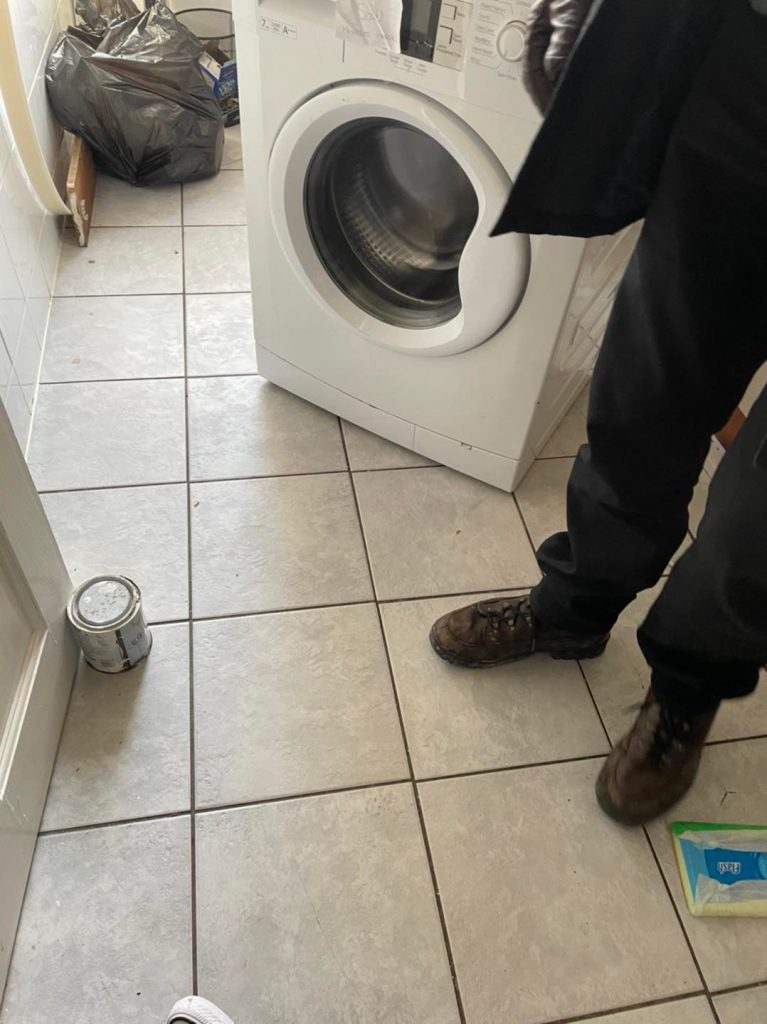 Sunday 3rd April 2022
Tonight just overwhelmed us and after last week we upped the number of meals we took out with us. Ideally we always make sure people have at least enough food to last them over 2 days.
129 people either came to our static support or the team came across as they walked around the city centre. We have no choice but to keep a head count as it helps us to plan each week but as we mention these numbers are overwhelming and growing.
We met a friend that's been in hospital for 2 weeks due to sores on his legs. Unfortunately he is still rough sleeping even though he knows he could lose his leg. We have also noticed that there are older people visiting us but unfortunately we had a 14 year old waiting patiently in the queue for a hot meal. We worked tirelessly all week and this week we managed to help 8 people recently housed with furniture, furnishings & electrical appliances these weren't donated to us, we actually bought these for people.
We are going to do our best to make people comfortable in their new homes, but we hope as things escalate with the cost of living we never have to choose between helping people in their homes or those that visit us on a Sunday night.
We have put out a appeal for donations of practical men's clothes, trainers, toiletries and non-perishable food and we have seen a decline in donations. We know that there are other causes that are taking priority but it was sad to see a man sleeping on a cold pavement this morning with a thin coat to give him some warmth.
We have often heard that individuals are having sleeping bags and blankets stolen by other street homeless people but this is done out of desperation to stay warm. We would be extremely grateful for any donations as mentioned.
Tonight we had to say no to people in homes to taking away toiletries as our priority is our rough sleepers, which unfortunately wasn't well received. In an ideal world we would love to support everyone but these are the choices we are having to make as we are burdened with the strain of what we are facing each week. On top of a busy week our usual support into all of the services and food banks continued. A lady even thanked us for supporting the breakfast club as she knows she is certain to get a hot breakfast and some times the only meal she can access.
Just a big heartfelt thank you to everyone that supported us this week, we genuinely can't do what we can without your support.
Thank you to: Gerry for providing 50 hot meals. Karen for the wholesome hot food she cooks each week, with Karen we thank our team in Menston for their incredible work as they to are seeing the demand we are facing. Indian Women's Community UK for donating 50 hot meals, fruit, yogurt and drinks. Punjab Heaven for their continued support each week with donations of delicious curry and rice. Singh's, again your hot meals helped to support the homeless hostels and bnb's we support tonight. Penny for donating us bread, buns and cakes which we used to make ham sandwiches and distribute tonight. Dawn for arranging delivery. Marlene for baking delicious homemade cakes, which we served with hot custard today. Hughie for the collection and delivery of these baked goods. Donations from the congregation of Thallan Village India, which went towards fruit, milk and water. Greggs and all the supermarkets that work in partnership with us for your donation of your surplus food, which helps us support individuals in their homes, homeless hostels and outreach.
What we've never mentioned is we wait for these donations late into the evenings. Sometime it maybe 9:30pm before we receive these donations so we can ensure that the food donations reach the people we support. So our voluntary work isn't 9-5, and we go on working late into the evenings so people do not go hungry.
We are a completely and non profit and 100 percent voluntary run charity. Equally we do our bit to reduce landfill. Re Think Pudsey for donating us waterproof rain jackets and trousers, which we will distribute amongst our homeless community which will at least keep them dry. Once again thank you to everyone that continues to donate to Homeless Hampers.
Once again, a huge thank you to the Homeless Hampers team and volunteers for making each challenging week possible.
Just a week to reflect on after tonight.