🎄🎄🎄🎄🎄🎄🎄🎄🎄🎄🎄🎄🎄🎄🎄🎄🎄🎄🎄🎄🎄🎄🎄🎄🎄🎄🎄
As we all know, 2020 has been a strange year in many ways, and, as a result, the need for your help is stronger than ever this Christmas!
Due to the COVID-19 restrictions on outreach volunteer numbers, we are appealing for help in numerous other ways this Christmas, in order to help us, help those who need it most.
With homeless numbers rising and predicted to continue to rise over the coming months, your help is needed urgently.
There are 3 ways in which you can help, no matter where you are in the world…
💵 Monetary Donations 💵
As with most charities, monetary donations are welcome all year round in order to keep the charity running as effectively and as efficiently as possible. At Homeless Hampers, we use your monetary donations in numerous ways. From providing furniture and essential household items to people we have managed to move in to their own homes, to providing others with items they may need for job interviews, appointments or just to keep themselves safe on the streets.
Every penny counts and helps towards reducing the number of people on the streets and improving the conditions for those who we are building towards getting a home.
This year, 2020, we have committed to providing hot, Christmas dinner with Christmas pudding on Christmas day to every homeless person living in the shelters. This, like anything, does not come for free, and, will be at a cost of £18.00 per head. There are over 120 men and women who will be spending Christmas day in shelters throughout Leeds and Bradford. The total cost of these provisions will be around £2,160.
As a result, we are putting out a call for help to all our supporters in aiding us in providing the hot Christmas dinners. If you would like to help towards this cost, please follow the donate button below.
You can donate any amount at the following link;
🎅🏼 Christmas Food Hamper Appeal 🎅🏼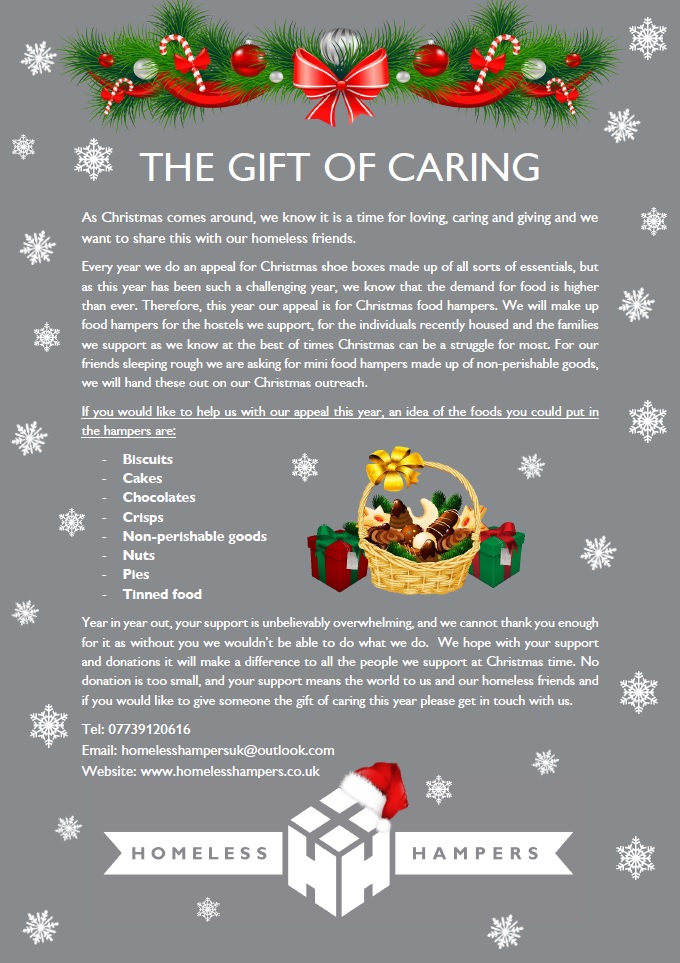 ❄️ Winter Essentials Appeal ❄️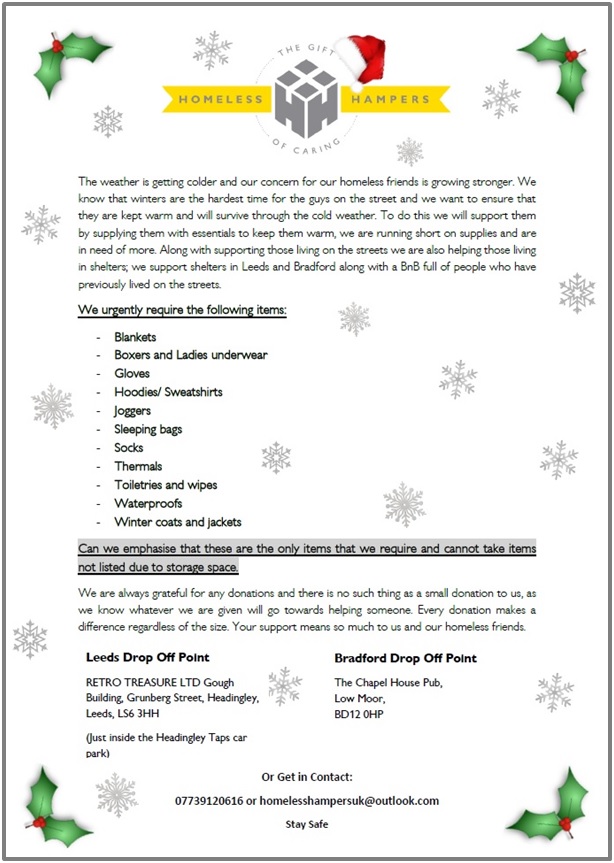 Thank you in advance for any donations and contributions towards the Homeless Hampers UK cause
💛 Stay safe 💛
🎄🎄🎄🎄🎄🎄🎄🎄🎄🎄🎄🎄🎄🎄🎄🎄🎄🎄🎄🎄🎄🎄🎄🎄🎄🎄🎄